Personal and Professional Protection Dogs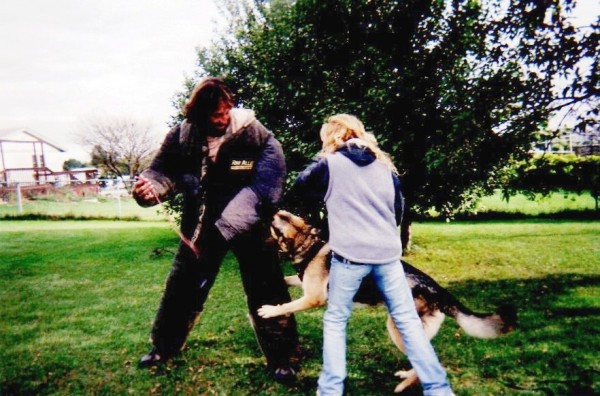 Frank Allison can assist you in choosing the right dog and help you determine your exact requirements for a trained protection dog.

As an industry leader in personal protection dog training, Frank provides the absolute finest to produce the most effective and reliable dogs for you and your family. If you're considering purchasing a dog for personal protection or desire protection training for the dog you own we can help you.
All protection trained dogs are evaluated to ensure they have the temperament necessary for protection work. It is preferred that protection dogs show an even temperament and a degree of intelligence as well as a degree of prey drive. They should also show a forgiving nature. The handlers are also interviewed to determine their needs and plans for a protection dog. Handlers must meet acceptable criteria such as dedication and time available toward lessons for them to be included into a protection program.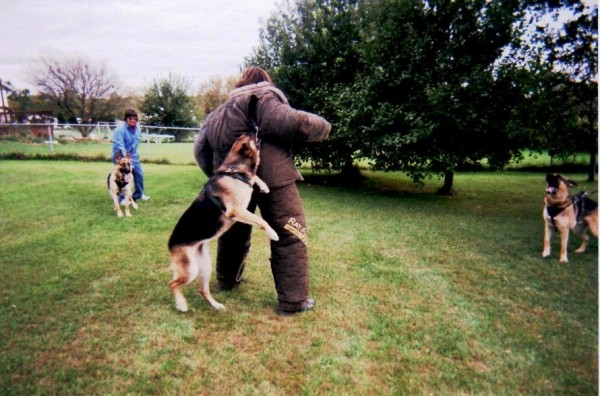 All dogs must be able to attain a high degree of practical obedience and socialization along with their protection work. This obedience and socialization continues throughout the protection phase of their training.

Any dogs used for protection work, especially in a professional capacity, are strongly recommended to continue regular training sessions in all aspects of their lives to maintain balance and integrity.
Like our obedience classes, our protection work is done for application in the real world of the handler.  In other words, I will tailor it to the individuals' need.  
It takes a minimum of:
10 lessons for any noticeable change
20-30 alert/alarm protection only
Additional 10 –20  "watch " command
Another 20-30 Guard
+20-30 Personal protection
Anything above PPD is maintenance or executive.
Often we use Protection work to even out a dogs behavior.  Many defensive and high drive dogs need an outlet that they don't get in a normal family setting. If they do not have a way to release the frustration and energy built it can cause problems. Also dogs that need confidence building  can benefit greatly from this type of work .
If you'd like to train your dog to be a "protection trained dog, call us or click to schedule a discussion about the program best for you and your dog.